Hawaii Process Server Christopher Curley with AQUA LEGAL, LLC
I have always marched to a different drummer. When I was 15 years old I was expelled from a good boarding school (Lawrence Academy) in Massachusetts, but I still managed to graduate summa cum laude from Northeastern University in Political Science.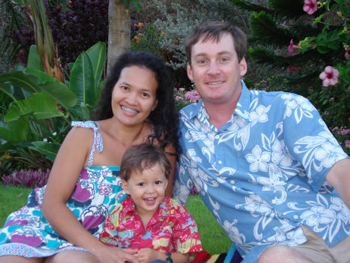 After college I worked as an
investigator for the Massachusetts
Attorney General, investigating
healthcare fraud. When I was 29 years
old I applied to law schools, was
accepted and decided to take a
5 month journey to the South Pacific
and SE Asia. After just 2.5 months I fell
in love with traveling so I cancelled law
school, lost my deposit, and had my
folks sell my car. I didn't come home for
a year and a half. My travels took me
to Fiji, New Zealand (hitchhiked both
islands), Australia (loved Tasmania),
Bali, Malaysia, Thailand, Vietnam (by
motorcycle), Laos, and 7 months in
the Philippines. Needless to say, long
term travel changed my life and
perspective on life.


I met my darling on beautiful Boracay Beach in the Philippines. I returned to Boston in 2000, and my wife and I moved to the islands in 2001. We love the beauty out here and enjoy the best weather on planet earth. Of course there is a price to pay to live in paradise but so far it has been well worth it. Our son Skye was born in 2005 here on Maui.

My wife is employed as an RN and I work as a Concierge at a fancy hotel in Wailea. I have been serving legal papers since 2005 for the former owner of Aqua Legal and I purchased the business in June 2007. My working life started when I was 12 years old delivering morning newspapers on my bicycle. Who would have thought I'd be delivering papers again in adulthood? I take great pride in serving papers and I enjoy the freedom of the work.
Aloha and Mahalo Nui Loa – Chris Curley